NUTRITION INFORMATION – HANOIAN STREET FOOD
AND LOCAL SPECIALITIES
---
ANY IDEA HOW MANY CALORIES YOUR FAVOURITE KIND OF BÁNH MỲ MIGHT HAVE?
No matter if it's your breakfast on the way to work or just a quick snack in between, a wide range of Bánh mỳ offers are easily accessible on the streets of Hanoi any day any time.
Since the main ingredient is the bread any kind of Bánh mỳ will be offering a good amount of carbs per serving. The further breakdown of calories and content of fat or protein is mainly determined by the filling chosen. You could say that in any case there will always be a small amount of vegetables added, that's positive, however the amount will always be on the lower side compared to the rest of the ingredients and will not make a big difference in making the dish healthier or change the calories.
Eggs are always a good source of protein, you need to be mindful thought that they also be offering a high amount of fat, resulting in a higher amount calories. The values in the table attached for Bánh mỳ trứng chiên are based on 1 fried egg per serving, each additional egg would add about 90 kcal to the dish.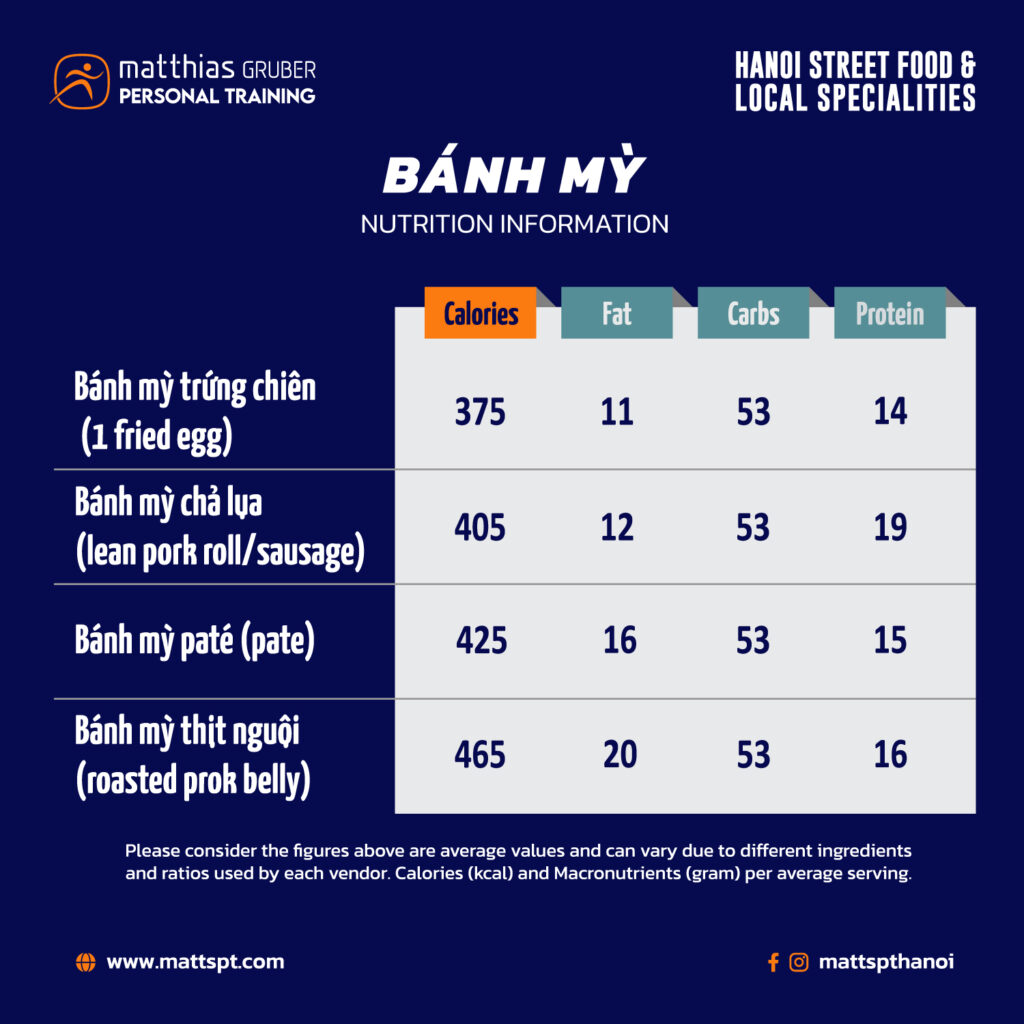 Chả lụa is usually made of rather lean meat, so the amount of calories and fat would be slightly lower than for other meaty options, what makes Bánh mỳ chả lụa a bit lower in calories and offering a better ratio of protein.
On the other end you would have Bánh mỳ thịt nguội. The meat used for this dish is usually roasted pork, which includes a high amount of fatty parts rather than lean meat, which is obviously resulting in a much higher amount of calories and fat.
Please find all detailed nutritional facts and further information in the table attached.
I hope the information on in the Hanoian Street Food and Local Specialties series remains being helpful for you, please stay tuned for more