Who doesn't love Bún Chả?
ALL DETAILS ON CALORIES AND NUTRITIONAL FACTS FOR THIS REAL HANOIAN CLASSIC!
---
As for any kind of street food, the amount of calories and nutrients can vary quite a lot due to different ingredients and offers of each vendor.
For Bún Chả the ratio between fat and protein is mainly influenced by the percentage of pork patties to pork belly. The patties are usually made of rather lean meat, while the pieces of pork belly offer a high amount of fatty parts. So more patties and less belly would lower the ratio of fat per portion.
However, the main factor for the total amount of calories remains the portion size. A bigger portion will have more calories, even if you just eating pork patties.
A regular portion size would be served in a smaller bowl and might cost around VND 25,000. The grilled meat often would be half-and-half for pork patties and pork belly.
Some places have specialized in offering larger portions, often those portions would consist of more patties than pork belly, so they will offer a higher amount of protein, still the bigger portion will always have more calories.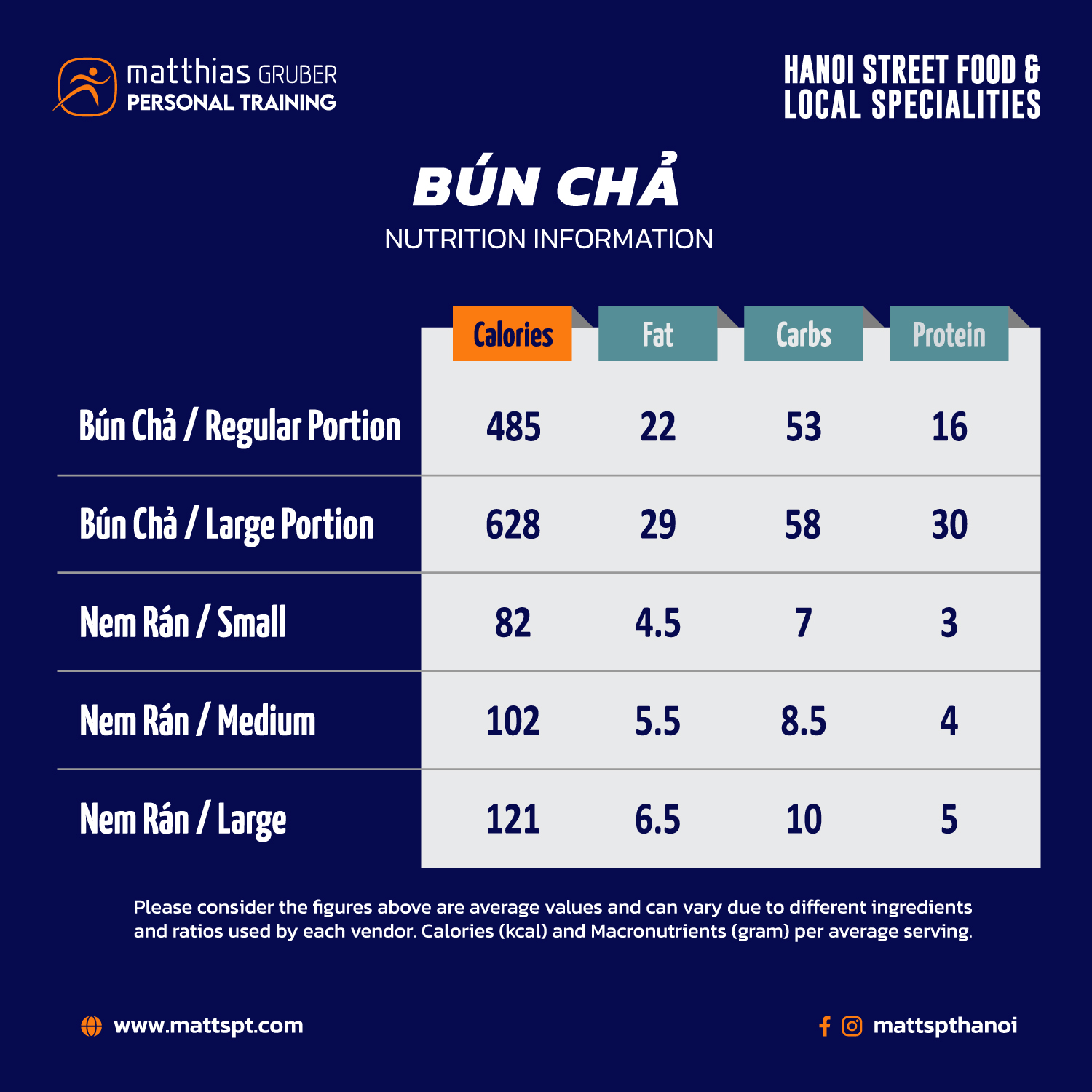 ADDING SOME CRISPY NEM RÁN TO YOUR MEAL?
Be careful about additional calories here. Nem Rán can vary from 80-120 calories depending on their size. They are deep fried, so they will always contain a rather high amount of fat per portion.
LIKE TO DIP SOME FRESH HERBS INTO YOUR BOWL?
Please go ahead, the herbs will not only offer a fresh and tasty touch to your meal, they will also offer a high amount of micronutrients and fibers.
I hope the information in the Hanoian Street Food and Local Specialties series remains being helpful for you, please also check out my other post from this serious and stay tuned for more posts to be issued soon.