NUTRITION INFORMATION – HANOIAN STREET FOOD
AND LOCAL SPECIALITIES
---
EVER BEEN CURIOUS HOW MANY CALORIES A BOWL OF PHỞ DOES HAVE?
In general Phở will always be a better choice than many other deep fried or rather oily local food options. However, be mindful that there can be quite big differences in the offered range when it comes to nutrition and calories.
Especially for Phở Bò you will find significant differences in terms of calories and amount of fat per portion, those are mainly influenced by the type of beef you chose. The very short boiled meat in Phở Bò Tái is usually rather lean beef and would accordingly have a lower amount of calories and a higher percentage of protein per serving. On the other end of the list you would find Phở Bò Gầu, the high amount of fatty parts that comes with the meat will increase the calories drastically, that can be 150 calories or more compared to Phở Bò Tái, and remember it's still only the same amount of food served.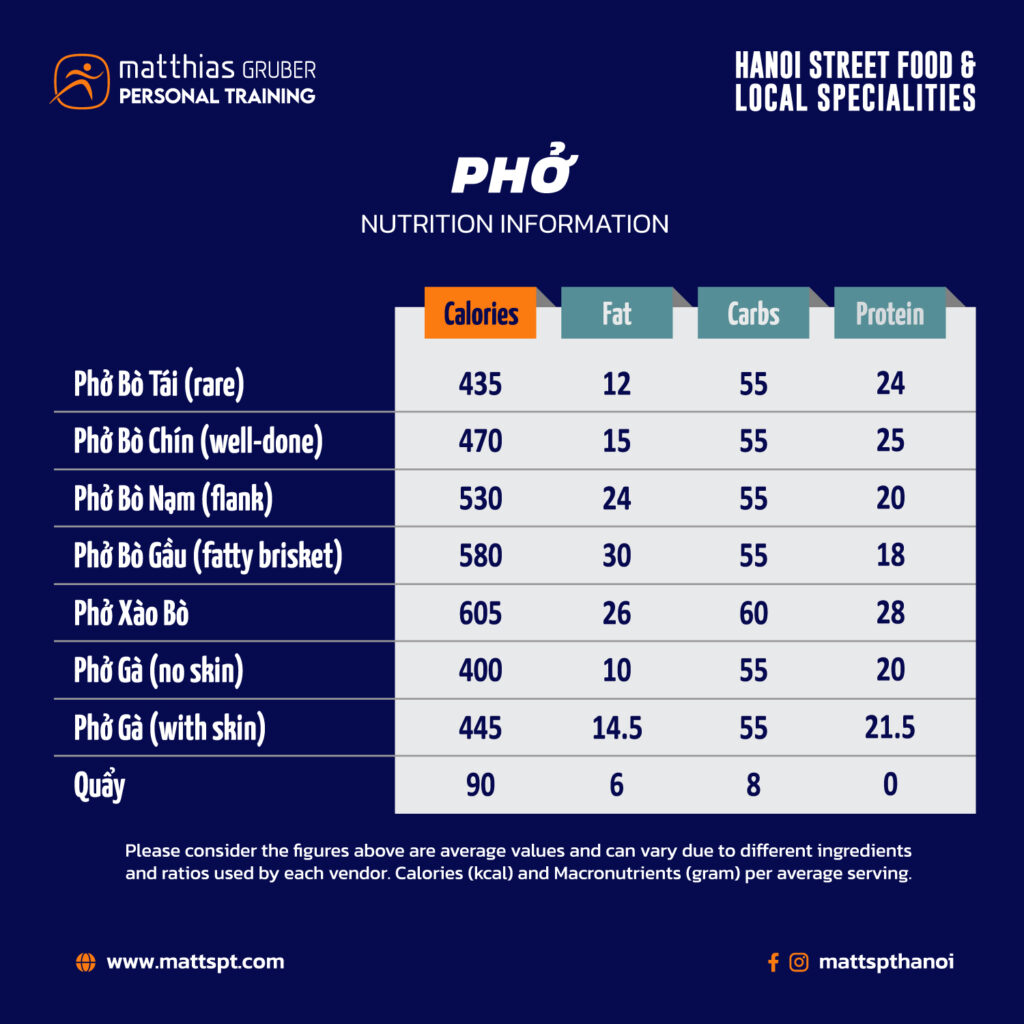 When it comes to Phở Gà, you would usually anticipate that chicken meat will be lower in fat and calories. However, a regular portion would also serve a quite high amount of chicken skin, which is consisting mostly of fat, so the total calories are actually not any lower. For all those who try to eat less calories or less fat I would recommend to only eat the meaty parts of the chicken but leave behind all the skin.
Enough of noodle in broth? You can can chose Phở Xào Bò instead, but obviously the fried version will be higher in fat and calories as well.
Do you like to dip some pieces of Quẩy into your bowl of Phở? Be careful and don't take too many, since they are deep fried they are actually quite high in calories and fat for their little size.
Please find more information and detailed nutritional facts in the attached table.
I hope you first edition on my series on Hanoian Street Food and Local Specialties was helpful for you, please stay tuned for part two which will be posted soon.